The "Useful to Albanian Women" association is a social humanitarian, non-political, non-religious, non-profit organization that fights for the protection of women's and children's rights. The association was established in March 1993 and registered officially at the Ministry of Labour and Social Affairs in September 1993. In January 24, 1996 it was reregisterd at the Albanian Republic Court, according to Decision No.285.
UAW operates through its main programs established in different cities and running as Community centers (with the focus in community members, women, youth and children) and Professional Vocation centers (with the focus in vulnerable youth ).
On the top, is the head office, who provide different activities, through lobbying and advocacy for women's issues, youth issues, children issues, environment, health, law, etc,etc.
These programs have their own structure with clear functions and division of roles and responsibilities of the middle management.
UAW have different officess in all cities within Albania, such as : Elbasan,Durres,Burrel,Puka,Lezha,Sjkodra,Vlora,Gjirokastra,Saranda,Kukes.
| | |
| --- | --- |
| | Also UAW on August 2015 founded and registered according to American law her American branch Useful to Albanian Woman-Boston with president Mirela Berxolli Mero. |
Our slogan since 2000 and now is:
Women make history, every day!
Until the year 2012 the centers Women's Club in Tirana, which is the Head office of UAW, run independent programs from each other, in terms of application, implementing and reporting. The cross-cutting projects and Women's Club program are the one which interlink these centers with each other. The headquarter office systematically supervises the programs and their results and impact of their intervention.
The organization developed the new strategy renewing its legal framework and developing its activities in all her branches .These challenge processes, need a new establishment of the organizational structure to support them, revision of the organizational chart, setting new functions of the high management of the association, revision of roles and responsibilities.
After 2013, the UAW's strategy was to strength the role and decision making bodies of each center, and to create more space in the terms of the community needs, target groups and human capacity buildings

UAW's hymn is"
We are ….

We are women
Bleeding , but proud
Tearful and happy
Loving and inquisitive
Mistaken and resilient

We want …

We want a world
With non-violent relationships
Among women, men and children
Between human beings and the whole world




Ne jemi….

Ne jemi gra
Me gjak e krenari
Te perlotura dhe te gezuara
Te dashura dhe kerkuese
Te gabuara dhe te forta

Ne duam…

Ne duam nje bote
Te maredhenieve jo te dhunshme
Ne mes grave, burrave dhe femijve
Ne mes qenieve njerezore dhe gjithe botes
Goals and Organizational Priorities
• UAW works toward the constant improvement of policies and social support services in the field of women's and children rights and to support their implementation.
• UAW influences in improving women's and children rights and poverty alleviation, especially among the vulnerable strata like; jobless women, vulnerable children and youth, lonely elderly women.
• UAW inspires, encourages and support women and children in protecting and their rights against all forms of discrimination and misuse.
• UAW aims to increase the women awareness regarding their role in society and family.
• UAW aspires to empower the women's role and place in society based upon its motto "Women make history every day!"
UAW is member of national and international networks such as:
Albanian Coalition against Trafficking of Human Being, Albanian Children Alliance Women National Council, UNITED, (European Network against racism) GATWA, (Global Alliance against trafficking-world- wide organisation), ARIADNE network, MEDIATE- network, International Human Rights Educational Consortium (IHREC), Balkan Civil Society Development Network (BCSDN)
The political and decision making bodies are:
Members of Assemble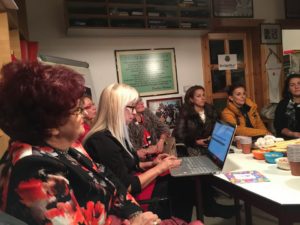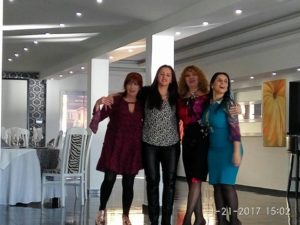 President; Head of Board and President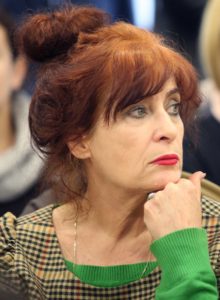 Women human rights activist
Peace workers since 2005 and on
Members of some European networks and worldwide
Citizen activist for different communities, political, religious problems
Founders of pluralism in Albanian among 300 people who signed pluralism
Founders of Women's Movement in Albania, as a Vice President of Democratic League of Albanian Women(created as non political movement in 1991-1992)
President of Albanian NGO Forum 1997-1999
Head of National Council of Albanian Women(2005-2007)
Candidate for Nobel Price in 2005, '1000 Peace Women Across the World"
Price for her contribution and her association in blood feud prevention, given from Lionel Jospen , in 2000.
Nominated among the most well known women in the world, in Peace Calendar in 2015
Appointment as the head /Albania of HWPL and IWPG Committee' , for the Implementation of the International Law on the Cessation of war and Achievement of World Peace
Honored by Partners Albania with Philanthropy Price, for her human rights contribution in November 2016
Honored among 10 Women in the World, September 2017, Seul from IWPG and HWPL
Member of Honored network in the world ; http://womennetworkforchange.org/board-of-directors
President of Useful to Albanian Women,(UAW) is directing the local Albanian NGO successfully in different direction of the intervention, social services, networking and lobbying activities. Network abilities, team spirit and team player developed during her implementation of different project in different areas of Albania. Known as a important peace workers, especially in Achieving Peace and Cessation of War, through her mission and position, as Peace Workers.
First supporter of achieving Peace and freedom in Iran, supporting Mujahedin in Albania and abroad, as world peace workers
Excellent communication and presentation skills during the all history of UAW organization. Flexible with excellent ability to adapt to multicultural environments, gained through her work with NGO sector and different trainings. Tem work skills improved through her involvement in a number of European projects, Albanian projects, training and conferences.
Excellent communication and presentation skills, capable of taking initiative, propose new ideas, confident and effective in making formal presentations, intervening in meetings, dedicated team player participating in group discussions and dealing with criticism. High organization skills and multi-tasking abilities.
Critic of literature in her former work, she used to published many articles, editing books, poems and writing novels. Editor in Publishing house 'Naim Frasheri'.
*Speech of President of UAW, on the anniversary of 100 years of Contribution of Women in Albanian State History(November 2012:
90+20, Woman's Movement, Achievements, Challenges, and the Way Forward!
(photo Sevim, from page in fb; One Hundred Years of Women's Story)
Renaissance of women's activism, its beginnings and challenges
Sevim Arbana
Dear ladies, colleagues, friends, and sympathizers of women's movement in Albania!
Honorable representatives of the State and International Institutions!
I am very honored and excited today, in front of a respectable audience, friends and colleagues, with whom we have shared all our concerns, challenges and our successes, to speak to you, namely about it; how did the Women's Movement in Albania be established and activated?
When I started dreaming of being a part of the first women's movement in Albania, I did not think that after many years of effort we could achieve such a great balance of success and challenges that the woman's move marked.
Let's all go back for a cast. In the beautiful days of movement for freedom and democracy, where, unlike 100 years ago, where men signed the independence of this country, in the 1990s, the number of women signing democracy was 62, out of 300 other signatories.
It was exactly women who began to think that their lives and children, the living conditions and the future of the country, would change them by themselves. They thought and fought to become ladies of their fate.
So the women's movement was born.
How did this move?
We all fought and dreamed a lot in the early 90s!
All of us, in our own way, began to cultivate our dreams and prospects, over that so desperate system, for which we had only heard; democracy.
For us it was the space, the dream, the future and the beautiful present for us all and our children.
So, through these ideals and perspectives, I was merely a woman, as their story in a country like Albania, where these fragile and strong beings never had anything to do but had given.
In the stormy days of summer 1991, a group of women and girls, inspired by strong democratic ideals, made the first attempts. They were grouped into a formation, which they themselves did not know how to call it, although they were clear about what they were looking for.
What these women wanted, the time was fast, so it took several months for us to gather, discuss and decide on a voice that our biggest challenge was to be, not political.
We did not know and did not have literature to guide us.
We did not have the experiences of our sister West or the ocean beyond the ocean.
We did not yet have strong institutions and programs
But we had a great advantage; we were the first, the country needed everything, and foreigners believed and wanted Albania to be.
So, in silence, merely, and with devotion, I come to many of us with our infant programs and experiences, with the poverty and the great shortages, but with the desire to fight, change and contribute, as ever.
At the same time we were confused, fanatical, extremist, yes and well-placed.
The first representatives of the women's movement in Albania, in the first years of Albanian democracy, did not show strong signs of cooperation, since women's problems were articulated equally and their treatment was devoted to them.
We dare today to look back and see the way we've done.
At all, we are proud of being the protagonist of this great historical moment. We wrote together, a very special chapter in our history; the history of women's movement, activism and efforts for an open and equal society.
Without much theories and experience in this field, with a great desire to change things, to make realities the decade's ideals, the movement of women in the early years began to slowly talk and act, making many women, people and institutions to turn their eyes and listen to what they wanted and aspired to these women.
We often were discouraged, often tried to use us, but as women and mothers, with the strong smell of the man who believes in the ideal, we managed to overcome the difficult moments in the history of this movement
Although it was born as an advanced and idealistic movement, with the visions and hopes of changing something, the fact that this movement faced anarchist laws, an unlimited democracy, which at that time was at risk of being destroyed and used, as the many beautiful ideals of December's democratic movement were destroyed.
But one thing was certain; the opportunity to raise the woman's movement was born.
In the years that followed, the woman's movement, in her first steps, faced the terrible events of 1997, events that grew and nurtured the movement of a woman who, with her attitude and strength, showed that she knew confronted
The ladies showed how much they believed in what they did, in what they were fighting for.
Created in a learning process by learning, we managed to create not only our profiles, but also to be activated and networked both internally and internationally …
We wanted, that was slow, naturally convincingly to 'accept' no
PROGRAMMES
1. Women make history , every day!
The core program of UAW and the face of the association.
Why women make history every day?
• The growing process helped the organization to focus from the ideology and idealism to measurable results and achievements
• The slogan of UAW became the face and the core program
• This program is focused to women as main target group, as they are not only the most marginalized society strata affected by phenomena such as poverty, trafficking, domestic violence, but they are a big potential as progressive change agent in the family and society and in decision making of the society
• On the other side, addressed by this action, the program exposes also the organization's Managerial and Financial Capacities, which need to be adjusted and improved based on the new strategy, vision.
The program consist in these direction:
Lobbying, advocating and awareness campaigns
Raise awareness concerning women's rights emphasing domestic violence;
Empower and educate the target group, so they are able to understand, claim and stand up for women's and children's rights;
Strengthening external (regional) and internal (organizational/TOT) capacities;
Influencing and affecting decision making toward Gender Equality.
Who is involved as beneficiary, actor and decision maker?
Vulnerable Women (divorced women, violated women, women in a difficult economic situation,widows and abandoned women, migrated women, jobless women etc., that will increase self confidence, skills)
The staff of UAW through developing the pilot model of self-sustainability and adopting new management concepts;
• Albanian NGOs, which are UAW's partners and affiliates;
• UAW trainers and lecturers that are prepared to train on the TOT
• The civil society community in Albania, of which UAW is an active actor;
The general public, especially women's movement which is interested for professional experts, organization and a vivid civil society
Which are the purposes?
*Raise awareness concerning women's rights, emphasizing domestic violence; Institutionalization of the AwarenessCampaigns
* Building up capacities and protecting mechanisms necessary to manage successfully the challenges offered by the Albanian society
*Empower and educate the target group, so they are able to understand, claim and stand up for women's and children's rights;
*Strengthening internal (organizational, managerial and financial) and external (support to other NGOs and to the society) capacity
Where we are?

The geographical expansion of the building up women's leadership, through different ways as establishing women's clubs in other Albanian cities reinforcing youth initiatives etc
Women's club " Teuta e re" Tirana
women's club "Puka women"
Seeds in Durres, Elbasan, Burrel
Employment Agencies Tirana, Elbasan , Durres, Vlora, Lezha, Gjirokastra, Saranda,, Lushnja, Boston
New Organisations born "Alunmi, Youth org. etc
Visibility actions
Reaching target groups, communities, stakeholders, state and public institutions, central and local government through: monthly organization's newspaper "Diella", organization's website, articles in other local and national newspapers, local and national TVs, brochures, leaflets.
Collaboration types of UAW
Collaboration with the small partner NGOs; learning and knowledge sharing
Positive and concrete experience is done in collaboration with small partner NGOs, through meetings, exchange of experiences, round tables, discussions, ToT training sessions and workshops.
Besides trainings on capacity building, the focus of work was in raising small NGOs capacities to manage and/or develop their own projects.
While, the collaboration of the small partner youth organizations in Durres has a different nature, focused on cultural and social issues. They have been supported to draft and implement socio-cultural projects for youth and children, which they are successfully implementing mainly in city of Durres, Lezha, Saranda, Gjirokastra and in its rural areas. Such support is given to women's club of Puka, which is independently planning, preparing and implementing small but incentive activities for women, according to Puka context profile and needs.
Synergies and networking with external partners, State institutions, local government, networks
Continuous networking and lobbying activities are developed with NGOs of the same or similar profiles with state and public institutions such as state police, municipality of Tirana, Regional education directorate of Tirana, Municipality of Durres, State social service etc; with donors
A courageous enterprising was developed among women organizations. Women organizations and other organizations have established a network with the focus on work against domestic and gender-based violence and pressure coalition toward central and local governments. In addition, there is under evaluation the establishment of national hotline service for gender-based and domestic violence.
Cooperation with local authorities has been a crucial and important focus, related as well with the elections process such as mediation in voting process and awareness regarding the right of vote (case of community centre of Durres, Elbasan, Burrel). Public and state institutions and local authorities of health, education and legal systems are involved in close cooperation in the implementation of all programs of UAW depending on their profiles and in the implementation of complementary projects.
Participating in debating processes with actors on legal frameworks such with think-tank organizations, international organizations and donors (CSOs, EU, UNDP), being active part of regional networks such as ARIADNE and financially supported by other donors such as Soros, UNICEF, have positively consolidated UAW's profile.