Programs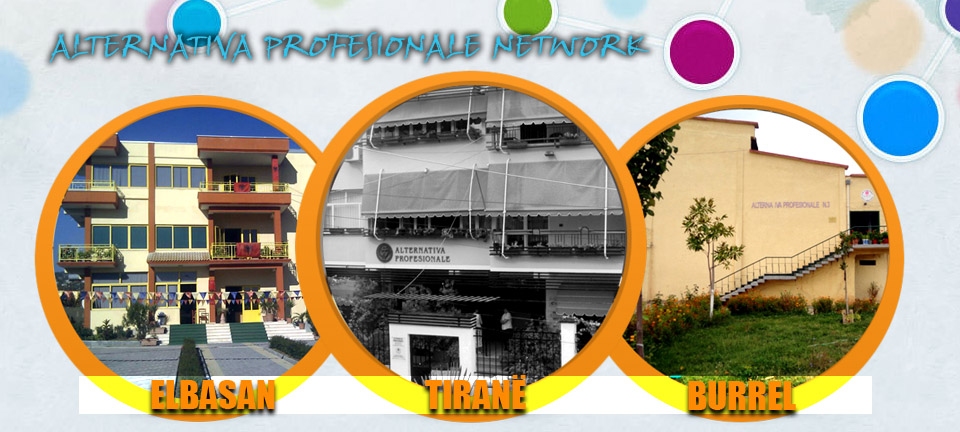 Who is "Professional Alternative"?
Tirane, Elbasan, Burrel, Durres
The "Alternative Professional" Center, Tirana, is a social and professional integration center for adolescents in economic and social difficulties aged 15-20. This program was born in 1997 as a collaboration of the association "The Benefit of the Albanian Woman" and the French association "Triangle". In 1998, the center's activity was funded by a roundtable of three donor agencies: HEKS, EED, ICCO and the last quarter of 2007-2010 by HEKS & EED.
Krahasa Tiranë, NDGSH, has its vocational training centers in Elbasan, established in 200 and in Burrel, established in 2009. These centers develop their activity in the company's assets, set up for this purpose and supported by: EED -Germany, in 2004, ICC, 2005 and Burrel Municipality, 2009
Vocational Training
Professional courses being developed include: Cosmetics, Kitchen, Tailoring-Stylism, Hydraulics, Secretary, Solar Panels & Air Conditioning, Car Mechanics. In addition to vocational training, young people receive and engage in complementary subjects such as English, Computers and Social Interaction. Recruitment of young people is done through the Selection process by the staff of the center who finds out on field work, collaborations, research in the most needy areas. In addition, they receive free medical service at the center. At the end of the six-month seminar, they undergo some final exams and then one month of professional training in private business subjects. The diplomas they receive are the diploma of the profession and the diploma of the computer subject recognized by the MLSAEO. A very important point for the purpose and mission of the center is the employment of these young people which reaches the mass of up to 70%.
Main activities in the centers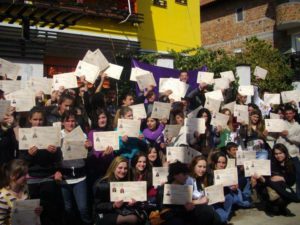 • Professional activity.
• Complementary courses (English + computer).
• Social Intervention (animation, psycho-social counseling, educational, awareness raising).
• Cultural and Information Activity.
• Selection (recruitment of young people attending social-professional courses).
• Education through peers.
• Medical service (periodic medical check-ups, health insurance).
• Mini Project "Moving Library" (Supporting and encouraging the readership in the community. Supporting young people who need to learn, but have no access to books.) Capacity building and cultural movement in the community).
• Job Information Agency, every young person is likely to be well informed and prepared to be promoted in the labor market.
• Practice and skills improvement, after professional training through various agreements with young market economy subjects, perform the internship month to improve the skills they have taken during vocational training in selected courses.
• 70-80% employment, 80% of beneficiaries are employed after vocational training, which have directly affected young people, their families and relatives.
• The Tooling Lending Program, for a fuller professional integration of the beneficiaries and their promotion in the labor market after they complete the lessons at the center.
• Open door Club, youth and the surrounding community develop various animation activities giving them a better opportunity to grow and develop in psychosocial direction.
Impact and social, professional progress.
Since its inception, the center aimed at their professional training for the purpose of removing illegal and street work, and hiring them. But as a center established by the "In Benefit of Albanian Women" Association, offering only professional opportunities could not be enough. For this reason, the center from the outset had the priority to harmonize the professional growth of young people in need and their inclusion in contemporary civic society through awareness, cultural and professional support activities. Year after year, the center has merited this aspect by increasing the quality of any activity of this nature. During the 16 years of implementing programs for the professional, educational, cultural and youth integration of youth, the "AP" center continuously enriched their content according to the needs of young people, time, models and advanced programs. Activities of this kind make it possible not only for the social integration of beneficiaries over the years, but also for the center itself as a more opportunity for cooperation and recognition. The vulnerable focus group is at a delicate age of psycho-social development, which requires a lot of engagement and work to be enriched with the right elements and to integrate into the model of contemporary society. The harsh separation that this target group typically exhibits with the school, its peers and its leaders has negative consequences on the development of their character.
The purpose of the center, which in its genesis and onwards aims at reducing these issues and improving the process not only of professional training, but as an inseparable part also in improving the character formation and enrichment of youth profile.
Educating beneficiaries, raising awareness through non-calendar activities, but also inspired and supported by different social situations in the country, as well as getting to know the work and instructions for success, is the center's priority. The success of the center is precisely the fulfillment of educational, cultural, awareness and professional gaps created by the cessation of the education of young people in need, for various socio-economic reasons. Preserving the values ​​of origin, this is a continuous and uninterrupted process towards their education and civilization, and which positively affects youth reshuffle.
Over the years, centers based on modern-day models, according to social and certainly supported tendencies and the needs and impact they create for young people, has consolidated, enriched and added professional, awareness-raising and cultural activities.
History of "Alternativa Profesionale"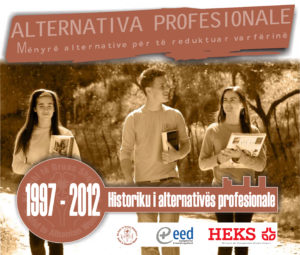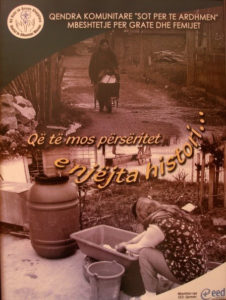 Community Center, Durres, Elbasan,Puke,Burrel
Created since 1998, as a humanitarian center with small development program.
Transformed , according to the Albanian and area's needs to the community services center for all vulnerable strata.
Goals :
Development strategies in liaison with state/ public institutions:
CC collaboration with public institutions at a local level consists in the exchange of information through participation in public activities of CC and vice versa, also in joint lobbying on issues affecting the community such as the issue of legalization of property, access in infrastructure, environmental protectionetc.
CC collaboration with public institutions for hiring young people and especially women has proven successful for the integration of a part of community in need to participate in the labor market. Coordination and support from local government is required as many funds in the context of decentralization of social services are managed by this authority, so for the realization of employment mediation is necessary to establish institutional constant relations with : a) Regional Employment Office by becoming part of the employment promotion programs, communication with business, recognition of the latest laws and regulations regarding employment, studies conducted regarding the labor force and labor market trends, and work fairs organized annually by the institution, b) Chamber of Commerce to establish regular contacts with representatives of business and to be part of projects organized by this institution or from its partners nationally and internationally.
CC sustainability of activities lies in the involvement in the program of vulnerable persons and for this it has acquired the good reputation in the communityDevelopment strategies in liaison with business community
Institutionalization of relations between CC and business community through liaison with business associations, chambers of commerce and industry, and relevant networks.

CC Elbasan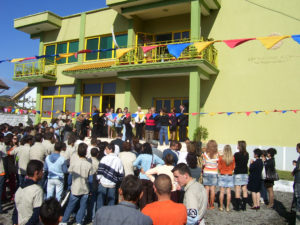  Vocational courses-Continuation of the vocational courses for girls and women including the new one; organization of the practical classes, helping them to get a job or to be self-employed.
 Strengthening the collaboration with the local government and networking: Working in partnership with local government and other actors to establish sustainability, offering better possibilities to help these under privileged children and their family. This will be realized through trainings, meetings, awareness activities where we have the possibility to discuss, to collaborate with each other for different issues.
 Awareness and capacity building activities
 Training with community mediators
Identification of successful examples for the community members' (Roma community), particularly for the graduated students at the vocational courses; Encouragement and further motivation of the past candidates and the new candidates
 Voice of Roma women association-further collaboration with this organization by offering to them our support in initiating and organizing activities that strengthen their capacities such as: awareness activities and professional courses, meetings with parents, to deal with development priorities of their Roma community, writing project and fundraising.
 Peer educator group – Continuation of the collaboration with the youth. Organizing practical classes and activities to practice all the know ledges gained at the school. This approach will help them to promote their skills and to foster the community feeling and volunteer work.
 Promoting Roma culture and tradition
Promotion of Roma culture and tradition, through exhibition with their works; organizing cultural activities

Community Center Burrel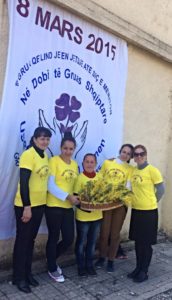 Started on 1998 as a Children Center with the name'Lulet e molles'.
After 2007, is transform in Community daily Center for all stratas in Burrel city.
This center provide services in the field of; education, health promotion, enviroment protection, right to election, food education, violence agains women, etc
It is well known in the city for her mission and vision. This center is supported from the beginning from SGF/Switzerland
25 Years Activities & Programmes
"Women's Club 'Teuta e Re"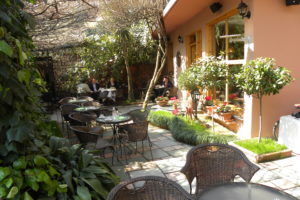 The center Women's Club "Teuta e Re" , was established in 1998, as the Teuta e Re Club and has given for many years it's contribute for the improvement of the living conditions for women and children. The work of the staff is focused on the main goals such as psychological, social and legal aid, Women's telephone line, social and cultural events, trainings, publishing the Diella newspaper, raising public awareness, the publishing of the green papers, offering job positions, legal support for their rights, and lobbying with different actors of the society to fight the negative phenomena that make more difficult the positioning of women in Albania
WC offers different services to women and families. It advocates and lobbies for women's and children's rights; it supports women in facing phenomena such as domestic violence, trafficking etc. It helps in alleviation of social problems like uprooted internal migrants (in particularly women and adolescents), through health care and civil rights education, social consultation. It organizes campaigns concerning different topics in women's right is well know address frequented by a lot of women from all social strata coming with different problems, it is important they are well connected with different NGOS as well as local and national institutions and administration. It has become the driving force in designing new projects and accomplishing know how transfer to suburban settlements where poverty and informal way of living is severe as well as regional towns where capacities are lacking. Up to now this know-how transfer was accomplished by projects set up in the different places and cities as Puka is. This has a great impact in exchanging ideas, information flow, networking, alignment and coordination of activities and community of practice, innovation may come from these towns, being therefore a good experience also for WC itself.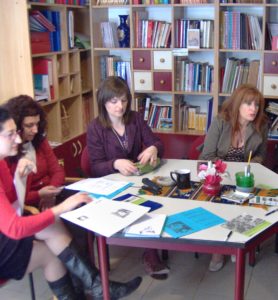 "Teuta e Re" is an open-door centre, where women of different strata may easily reach their objectives through comfortable settings such as coffee bar and consulting offices. It organized weekly workshops, meetings, freely social discussions, social-culture events to promote the women's role in society. This range of services allows delegating cases, exchanges information and cooperates on important women issues. Concerning lobbying and advocating, the women's club is collaborating with larger women's network, other NGO's, governmental and public entities, Parliament, etc.
Some of this Center's new projects include continuous community work, health education, geographic spread of the Women's Club, social evaluation, voluntarily involvement as well the promotion in the media of the services offered. This Center plans to organize such events not only in Tirana, but also in Puka, Durres, Elbasan and Shkoder.
This club was introduced in cities such as Puka, Shkoder, Durres and Elbasan through meetings with women representing these regions.
Many social science students worked as interns in this club.
Women's Club "Teuta e Re" has over 200 girls and women volunteering and helping with our projects.
This program introduced Breast Cancer Awareness Campaigns , Internatinational Days agains smoking, International Childrens day,etc
The Organization and Women's Club "Teuta e Re" organized a peaceful protest on March 8, National Women's Day in Albania. This protest in now a tradition..
Women's Club "Teuta e Re" has published Diella newspaper.
Women's Club "Teuta e Re" continues to work with the Employment Agency for girls and women.
Women's Club "Teuta e Re" collaborates with governmental institutions including the Ministry of Internal Affairs, the Ministry of Defense, the Municipality of Tirana, the Detention institution, the Tirana Police.
Department, and the Social Science University. These collaborations have helped in organizing some of the most important events during this six-month period.
Women's Telephone Line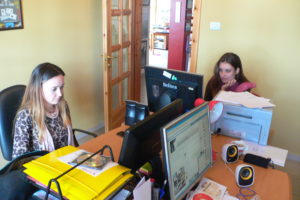 The Women's Telephone Line (22223001) has registered thousand of phone calls during these 25 years . Most of them asked for legal supppoer, psycolpgial and social support, as well, job opportunities .
It is a service that provides the center "Women's Club"
Forming the number:042 237728
You can connect to:
* Our specialists to receive information and advice on women's rights issues, domestic violence, poverty, gender issues, the position of women in the family, health issues and many other issues that women face today.
* You can benefit from social-psychological and legal assistance offered by specialist sociologists, psychologists, and journalists who are ready to stay close to you to help you with your problem.
Do not hesitate then call us now 042 237 28
Counseling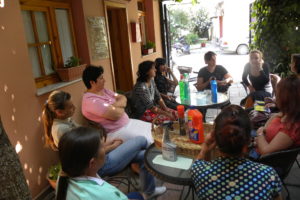 \W Club 'Teuta e Re" dea for almos 20 years with many cases that needed psychological and legal help. We were able to help many women and girls , through the women's telephone. .
Other factors that lead these women to seek help include unemployment, conflicts among different generations and psychological changes. It is important to emphasize that these women were from different social backgrounds. They were of different ages and came from different cities. Most of these women who experienced domestic violence are now seeking divorce from their husbands.
We offered them our legal assistance.
Social Activities: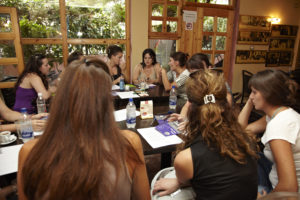 One of our main goals during 20 years of W Club activities was to organize events in order to reach out to the community and be as close as we can to the women in need. We tried to organize events in other cities as well. These events focused on everyday problems such as domestic violence, health education and awareness to promote a better quality of life by respecting women's rights.
The staff of our Center collaborated with volunteer students who undertook an initiative to monitor the written Albanian media on the quantity and the quality of the news on violence against women.
Health Education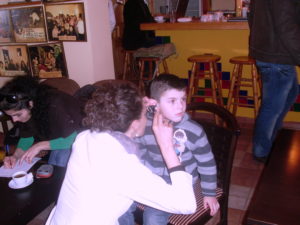 …received special attention during these years based on the success we had previous years. The main purpose of this program is to intervene in the process of public information in order to support health among mothes, childrens and family members. while advocating and lobbying awareness, social support, reimbursement, and local and central health politics.
Awareness Campaign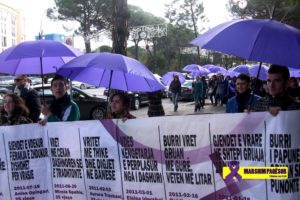 March 8, A peaceful protest called WOMAN MAKES HISTORY EVERYDAY was organized by the Useful to Albanian Women Organization, evry year, iin different formas and with different partners, in different cities.
16 Days agians Violence on Women, is organized every year from Novemebr 25th till December 10th.
Cultural activities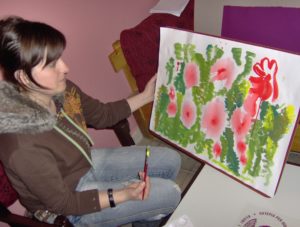 The cultural activities have attracted women near the Women's Club Teuta e Re. Some of them are members of our Organization, and others frequent the Club. The cultural activities were mostly focused in exhibitions of visual art, such as paintings or other women's work, such as saw, metal work, and other different handcraft art. Also, there were included book promotions of different women and girls authors.
A great part in these activities has taken the celebrations of different holidays or birthdays of staff members who prefer to have a good time and share their happiness together with us in our Club.
Green Papers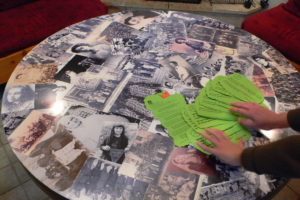 There are messages that UAW places every day on the tables of the Women's Club.
The messages are about violence, health, education, nutrition, women's participation in politics.
Every day in Women's Club "Teuta e Re" every visitor or woman can find on the table a Green Paper where is writen: a poem , a slogan , a quote about woman human rights, health education, education of woman
and girls in Albania, gender equalities , enviorement etc. . It's a message and a greet for all.
DIELLA Newspaper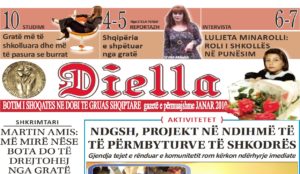 Della Newspaper, is UAW's Newspaper.
Started in 1996 with another tittle; Women's World" and on 2000 we called "Diella' on behalf of our Chair lady in Kune -Vahine, Diella, also the meaning of this word-SUN
Newspaper has preserved its distinction by treating even more themes dedicated exclusively to women and their role in the society. The articles included topics on violence against women, gender equality, women's health, but not forgetting the announcements of different activities held by the Organization.
PEER GROUP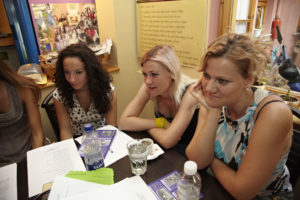 Apart from women in need, those involved in law making, etc., "Women's Club" offers services from which youngsters could also benefit, especially those studying at various faculties in Tirana's high schools and universities. The activities organized for/by the peer group involve:
• Lectures
• Training
• Activities of various themes, such as: human rights and liberties, sexually transmitted diseases including HIV/AIDS, drug and alcohol abuse, child labor, human trafficking, gender equality in decision making, communication, psycho-social development during teens, child-parent relations, etc.
• Volunteer work organized by the peer group.
• Voluntary inclusion into several activities held by UAW, aiming at various educational campaigns.
The peer group will also help organize social and cultural activities such as; painting exhibitions where they can promote their own work, literary evenings, book promotion, educational campaigns dealing with their rights, debates on environmental protection, etc.
Women's Club have decided that the number of participants within the peer group would be approximately 40.
They participate from the very early stages when the initial footprint of activities is drawn, and are also encouraged to add events of personal significance. Year after year we have noticed an increase in the number of such events, and their interest is also growing rapidly.
3. Employment Agency

Started on 2000, supported by Caritas of Vienna and later on from Caritas of St Polten(Austria) HEKS(Interchurch Swiss Aid)-Switzerland
This program is continuing very successfully
The primary purpose of the employment agency is providing training and professional formation to support jobless and/or marginalized women. E.A assists women in need through basic services to increase employment opportunities and to build self-esteem and social skills. The employment agency offers the services of housekeepers, nurses, elderly and child care workers.Employment Agency began operating, taking into consideration the large number of unemployed women and through interviews, consultations, questionnaires of developing equal opportunities aims to find a better integration in the Albanian society of this target group.
The main purpose of EA is"
Training and employment of women and girls in need. to find a job in this fieold;

bay site
nurses for elderly people
housewife.
The agency offers our domestic services.
The agency offers trainers for women's groups that provide these services "
In these trainings, we aim to embrace the professional ethics of these professions. At the end of the training each of the women completes a questionnaire that serves us to evaluate them.
By training, we recognize and appreciate every woman's ability. By making the right combinations between demand and supply, it is possible to increase the prestige of the Agency.
Based on the experience so far we can say that the success of this project is measured by:
 Creating new employment opportunities for women and girls who do not have a genuine profession, improving not merely their economic income, but above all their social status.
 Mitigating the prejudicial mentality in the community on the provision of family services, experience that has been extended and estimated in other countries for a long time.
 Improving the quality of life not only for benefiting women and their families, but also for the beneficiary clients of our services
Since its inception, the Agency has been frequented by a considerable number of women and girls. This makes it easier to select them.
Useful to Albanian Women-association/Woomen's Club "Teuta e Re"/Tel+042 237728/Rruga :Naim Frasheri Nr 8 Tirane
6.Guest house /USEFUL TO ALBANIAN WOMEN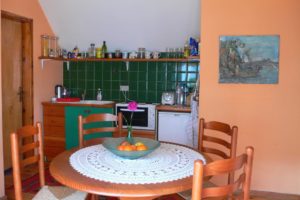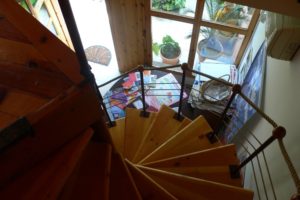 A little hidden in one of the quietest suburbs of Tirana, UAW have created a home away from home.
We have spent a long time ensuring that our guest's comfort is maintained.
Our guest house has been structured with only the best in mind.
Situated near the center of Tirana, it's also a piece of nature in the middle of the urban chaos. This place has an air of peace and tranquility that makes you feel warmly welcome.
There is nothing better than enjoying a drink on our bar where you will bee enclosed by friends.
Our Guest House is opened to all our donors, partners and every one else who works in the same social fields like us.
We provide these facilities and services:
 Internet;
 Telephone;
 Bed/Breakfast;
 TV;
 Wipe-Clean mattresses.
Address:Useful to Albanian Women-association/Street. "Naim Frashëri", Nr. 6. Tirana/ AlbaniaTel/ fax: 00355 42 223 001/email: uaw@icc-al.org/sevim@icc-al.org
First Projects 1993-2000
Humanitarian aid , SGF/Switzerland, 1993
Free lunch service for poor children, Elbasan /HEKS, Switzerland 1993-2013
Golden Hand shop/Oxfam, SGF, 1995-2001
Free lunch service for poor children, Lulet e molles, center Burrel/SGF, Switzerland, 1993-2015
Prostitution-society in dilemma-survey, EU Phare Democracy Program
Green House in Tapiza village/ Caritas of Vienna, 1997
Women, bridge for peace and understanding- 1997,Caritas of Vienna
Humanitarian aid for schools, state institution-The Netherlands, Switzerland, 1995-2005
Awareness campaign against trafficking of women-EU, ARIADNE, Mama Cash
Women's Club Teuta e Re", 1998-on HEKS, NOVIB, EED, Caritas of Vienna, Caritas of St Polten, Austria, UAW, Albania
Doll for dolls- NOVIB, 2000
Humanitarian Aid for Kosovo women, girls, children-1998-2001, HEKS, SGF, EED, Novib
Family house for Kosovo women and children in Shkodra' Miresia" , 1998-2000, HEKS, Switzerlan
Women –bridge for peace and understanding, Kosovo, Montenegro, Serbia, Macedonia, Albania-1999-2001, HEKS, Caritas of Vienna,
Magazine 'Women's World- 1996, supported buy UAW
"Diella' newspaper, 2000 and on, supported by HEKS, Switzerland
Family house "Little Dolphin" Durres 1998-2005
Monitoring center against drug & alcool in two middle schools in Tirana 1996-1998